William S. Reyes Elementary School
Executive Summary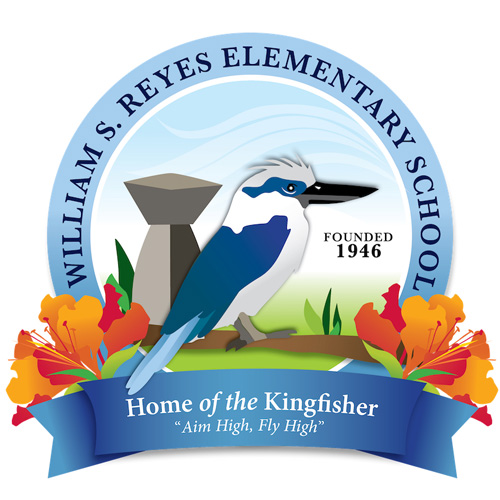 William S. Reyes Elementary School (WSRES) is located in Chalan Kanoa village, on the island of Saipan, Commonwealth of the Northern Mariana Islands.  The school is home to the largest enrollment of students over 695 from K-5 as of May of 2019.  The growing number of students enrolled at WSRES reflects increasingly diverse groups based on ethnic, social-economic backgrounds and special needs.  The student population is comprised of 17 different ethnic backgrounds. Eighty-three students receive special education services, with 7 initial evaluations and 8 eligibility lined up. The school has identified 5 students with Section 504 accommodation and 87 receiving services in the Title I reading program. 100% of the students were enlisted on the free meal program not based on income, but with an "All'' inclusion basis as granted by the USDA-FNS. WSRES currently employs 62 personnel from classroom teachers to support staff, administrative staff, and community agency partnership.
The school's continued efforts in raising student achievement in Reading remains at the forefront of the school's priorities, however all other content areas are being addressed as well. Based on previous year results, more emphasis on effectively teaching reading is necessary in order to continue the upward trend in student reading success. This year presents Year 5 of the State Systemic Improvement Plan (SSIP) implementation. The SSIP continues to be a critical component extending across all classes from Kindergarten through Grade 3. Reading scores continues to reveal a need for improvement on college and career readiness as reported by the ACT Aspire assessments in Grades 3-5.  Additionally, focus on addressing Writing, Science and Math scores across Grades 3 to 5 will need to be addressed. Intentional and job-embedded professional development, implementation of the Daily 5 literacy center-based classroom practice across all grade levels, collaborative instructional practices, acquisition of instructional materials/ resources, and intensive student interventions continues to be the key elements the school will carry on  in order to strengthen all efforts to help raise student achievement.
WSR uses a variety of assessment data to determine students' academic performances. The data presented in this report were derived from the GES School Year 2019-2020 STAR Reading, Early Literacy, and Math Proficiency Level Screening 1-3 Data along with the CNMI PSS-WSR ACT Aspire Interim 3 Assessment data up to March 2020 only.  Please note that outcome data for STAR assessments and ACT Aspire Summative are not available due to COVID-19 nation-wide pandemic school closure.
WSR continues to be committed to providing quality education that meets the needs of our students, staff, and parents. With our combined efforts, we aim to meet the three following goals as stated in our School-Wide Action Plan:
Goal: By the end of SY 2020, students will perform at proficient or better in English, Reading, Math, and Science as measured by the ACT Aspire Summative Assessment with the following targets:
Scroll the table left to right
Grade

 

English

 

Math

 

Reading

 

Science

 

Grade 3

 

59%
(61% SY 19)

 

41%
(30% SY 19)

 

32%
(32% SY 19)

 

37%
(27% SY 19)

 

Grade 4

 

65%
(57% SY 19)

 

41%
(22% SY 19)

 

39%
(35% SY 19)

 

32%
(32% SY 19)

 

Grade 5

 

66%
(61% SY 19)

 

38%
(15% SY 19)

 

29%
(29% SY 19)

 

39%
(25% SY 19)

 
Scroll the table left to right
ACT Aspire Interim
ACT Aspire Interim III Proficiency Report
Proficiency Report: Subject Proficiency by Grade
Scroll the table left to right
Grade Level

English

Reading

Science

Math

 

Below Benchmark

Meets Benchmark

Below Benchmark

Meets Benchmark

Below Benchmark

Meets Benchmark

Below Benchmark

Meets Benchmark

3rd

58%

42%

84%

16%

91%

9%

85%

15%

4th

31%

69%

64%

36%

73%

27%

82%

18%

5th

33%

67%

81%

19%

72%

28%

81%

19%
Scroll the table left to right
Scroll the table left to right
STAR Early Literacy

Grade Level

At/Above Benchmark

On Watch

Intervention

Urgent Intervention

K

46%

17%

12%

25%

1st

28%

23%

22%

27%

2nd

2%

7%

24%

67%

3rd

 

 

 

 

 

10% (2 students)

 

90% (18 students)

 
Scroll the table left to right
Scroll the table left to right
STAR Reading

Grade Level

 

At/Above Benchmark

 

On Watch

 

Intervention

 

Urgent Intervention

 

1st

 

60%

 

7%

 

20%

 

13%

 

2nd

 

40%

 

12%

 

19%

 

29%

 

3rd

 

48%

 

15%

 

14%

 

23%

 

4th

 

47%

 

18%

 

17%

 

19%

 

5th

 

41%

 

15%

 

23%

 

21%

 
Scroll the table left to right
SWP: Goals, Number of Objective Met/Number of Objectives
Scroll the table left to right
#

Goal

Number of Objective Met/Number of Objectives

1

Goal: By the end of SY 2020, students will perform at proficient or better in English, Reading, Math, Science and Writing as measured by the ACT Aspire Summative Assessment with the following targets:

 

Objectives: 10
Strategies: 15
Activities: 67
Scroll the table left to right
School Budget (Local, Federal, Non-Appropriated Funds, Others)
Scroll the table left to right
| | |
| --- | --- |
| Funding Source | Total Allocation |
| Personnel Local Budget (including all benefits) | $2,210,713 |
| Personnel Federal Budget (including all benefits) | $555,524 |
| Local Budget - Operations Allocation | $70,000 (funding was not available due to financial crisis) |
| Federal Consolidated Grant (School-wide Plan) | $422,400 |
| Federal Wellness | $16,121 |
| Federal Parental Involvement | $3,000 |
| GES Non-Appropriated Funds (PTA Funds) | $10,240 |
| GES Non-Appropriated Funds (Educational Tax Credit) | $12,000 |
Scroll the table left to right
School Successes / Highlights
WSR received $150,000 in SNILD Funds from Precinct 2 Leaders, Representative John Paul Sablan and Tina Sablan.
Mr. Jay Muna, 4th grade teacher was awarded the Presidential Awards for Excellence in Mathematics and Science Teaching
PSS & WSR Awarded Accreditation
All staff participated and completed SPARKS Training
WSR took part in the PSS OPT Bus Evacuation Drill
WSR Teachers, Instructional Support Staff, and Aides participated in an in-depth Renaissance PD for effective implementation and data coaching
WSR Spelling Bee competition was successfully conducted on campus and representative participate in the district wide competition
WSR conducted the school-level Geography competition; WSR Winner made it to the final state round test
WSR participated in various PSS Interscholastic Sports Competitions
WSR honored and recognized the outstanding Kingfisher Teacher of the Year, Mrs. Junie Pangelinan, Teacher Aide of the Year, Mr. Carldrine Santos, Librarian of the Year, Mr. Art Sondheim, Counselor of the Year, Ms. Tambra Reyes, and Support Staff of the Year, Jesus Aquino
WSR participated in the Paseo De Marianas Christmas Tree Competition and won 3rd place, received $3,000 cash prize
WSR inducted 5 amazing students as STUCO officers
WSR has strengthened community partnerships
WSR partnered with JKPL and Humanities Council to conduct a cycle of the Motheread/ Fatheread Parent Literacy workshop
WSR participated and was represented in the Mathcourt competitions
WSR participated and was represented in the PGFC competitions
Partnership and coaching with Achieve 3000 & Smarty Ants
REL Early Warning Systems and SEL Professional Developments
Mental Health QPR Training for teachers
WSR students won Digital Learning Competition Participation. Each student were awarded and ipad for their participation.
WSR school-wide STEM & Paper Airplane competition along with participation in the PSS State-wide competition
Monthly Student of the Month recognitions during monthly flag ceremony 
Weekly Professional Learning Team meetings and Grade Level Collaborative Instructional Planning meetings
Parent Involvement increased with 715 parents logged in as participating in school events from September 2019-March 2020
Annual Family Fun Night was successful and raised over $12,000
A total of 333 students participated in Afterschool/Saturday Programs.
WSR celebrated the holidays with a Disney Themed Holiday Program
Enrichment Learning Packets were distributed to all students during COVID-19 School closure
Virtual Promotion Ceremonies for Kinder and 5th Grade were celebrated
School Facility Repairs and Renovations were completed

Covered Walk-Way between Building D and Cafetera
Demolition of Building C
Repainting of School Campus
Replacement of School Signs
Library Renovations (Walls, Windows and Shelves)
Installation of 45 CCTV Cameras on campus
Building F and I are fully repaired