Marianas High School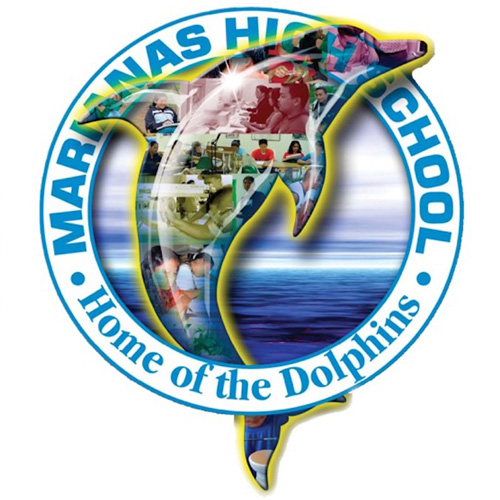 School Motto
"Team Effort Towards Excellence"
School Vision
Marianas High School is a community that works together to develop intellectual, social, and cultural potential.  
School Mission
The mission of the Marianas High School is to provide all students the opportunity to develop the competencies necessary for college and career readiness.
MHS' HISTORY
In pre-colonial times, education in the Northern Mariana Island took place at the home, in boathouses, and in urritao (men's houses.) Skills in navigation, fishing, medicine, farming, cooking, weaving, and other cultural arts were passed from generation to generation. Chants and oral history were essential elements in the education process.
 
The Spanish arrived in 1521, and began colonizing in 1668. As part of their religious mission, basic instruction in reading, writing, arithmetic, and religion were provided through the Roman Catholic Church. The first school, the College of San Juan de Letran, was opened in Guam in 1669 and offered christianized Chamorro classes in crafts, agriculture, and Spanish. The indigenous population of the Marianas was exposed to western values and ideas for the first time.
 
During the Japanese Administration (1914-1944), the Japanese maintained a separate school system for themselves, and a different system for the indigenous people of the island. All Chamorros and Carolinians had to attend school for three years; special students could attend another two years. Emphasis was given to Japanese language, ethics, and trade skills. Post-elementary vocational training in Palau was made available to a few select students.
 
The American military administration allowed informal schooling at Camp Susupe Interment Center, beginning in August 1944. Chalan Kanoa Elementary School was established in 1945. In May 1946, the American administration directed that uniform public education be implemented for all of Micronesia. In September 1949, secondary education was first introduced to the Northern Marianas with the opening of Saipan Intermediate School at the Chalan Kanoa Elementary site; it offered education from 7th to 9th grade. In the late 1950's Saipan Intermediate School was renamed Hopwood Intermediate School.
 
Students who wished to continue their education past the 9th grade could attend private schools such as Xavier High School, the first full high school in Micronesia, which opened in Chuuk in 1953, or Mount Carmel High School, which was opened in 1959. Before 1962, the only public high school in Micronesia was the Pacific Islands Central School (PICS) in Chuuk, which was later relocated to Phonpei.
 
Between 1962 and 1965, Hopwood Junior High School began enrolling student in grades 10 through 12, and in 1965, the Northern Mariana Islands had its first public high school. Unfortunately, in April 1968, Typhoon Jean devastated the school and destroyed several buildings. While a new high school was planned, the work on it was accelerated. A year after Typhoon Jean, in the fall of 1969, Marianas High School enrolled its first students in grades 10 through 12, with the first students graduating in June 1970.