Hopwood Middle School
Executive Summary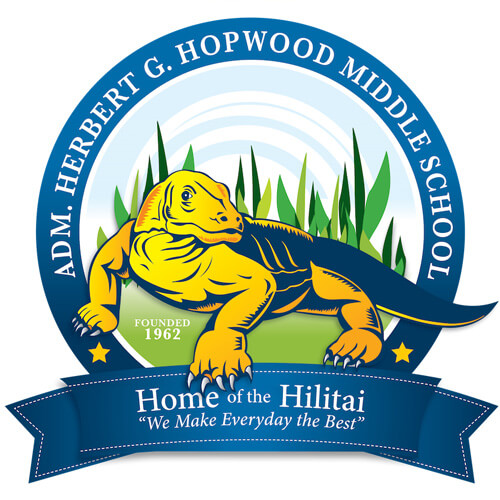 Admiral Herbert G. Hopwood Middle School is located in Saipan, Northern Marianas Islands. In October of 2018, supertyphoon YUTU devastated the island and caused severe damage to the school's infrastructure which led to the relocation of the school to the Koblerville Elementary Soccer field. With the collaboration of the district, FEMA and the local government, a temporary tent facility was built to host the population of Hopwood Middle School and continue daily operations. In SY2020, the school planned to transition the students back to the old campus. Nineteen classrooms were renovated and there is an ongoing effort to renovate and repair the facility. In March, 2020, the temporary campus located at Koblerville Village was closed down due to the COVID19 pandemic. The students were provided with the independent learning packets to support their learning at home. Wifi on wheels became available to continuously support the learning at home initiative. The school did not offer a summer program due to the pandemic. 
The school is the largest middle school in the CNMI Public School System. There was a decline of students' population by 4% from 926 in SY 2019 to 883 in SY 2020. This SY2021, we will serve 965 students in grades 6th to 8th. The school has a diverse student background. Students' ethnicities include 49% Filipino, 19% Chamorro, 9% Carolinian, and 7% Chinese. There are 13% Other Pacific Islanders which include Chuukese, Marshallese, Palauan, and Yapese. The 4% Other Ethnicity includes Japanese, Korean, Nepalese, and Bangladeshi. Based on the WIDA data HMS indicated that 26% of the students are English Learners. Filipino- 441,Chamorro-212,Carolinian-75,Chuukese-57,Chinese-58,Palauan-16,Others: 65,SPED- 80, ELL- 235 (Tested on WIDA)
Admiral Herbert G. Hopwood Middle School has a total of 65 employees. Our administrative staff is composed of a school principal, two vice principals, a registrar, and an administrative officer. The school has a total of 49 classroom teachers and 4 teacher aides. Despite having a high student population, the school is only allowed to have one building maintenance, one custodian, a school aide, and a librarian aide. Due to lack of ground maintenance, the school outsourced the services needed to help maintain the school facilities.
There are 100% of the school administrators and 96% of the teachers who are highly qualified. Thirty percent of the teachers and administrators have attained Master's Degree, 46% have Bachelor's Degree, and 1% with Doctoral Degree. 
For the school year 2020-2021, the CNMI Public School System Child Nutrition Program operates the National School Lunch Program (NSLP) under a block grant funded by the United States Department of Agriculture. All students at Admiral Herbert G. Hopwood Middle School receive free meals daily. 
The school uses a variety of assessment data to determine students' academic performances. Based on the school STAR Reading data generated in SY2020, 65% of the students are below their grade proficiency level in Reading. The STAR math data indicates that 60% of the students are below their grade level proficiency in Math. There is an increase of the percentage of students who have met college and career readiness from 31% in SY 2019 to 33% in SY2020. For Act Aspire Interim results as of January 2020, the average scores that meet benchmarks in  Math is 27%, Reading is 43%, English is 71%, and Science is 34% for students from 6th to 8th grade.
Based on the climate and culture staff survey conducted on May, 2019, the staff scored higher in the interactions, physical spaces, and description of their colleagues. However, the survey also indicated that the lowest scores are their feelings about the completion of their responsibilities while at work and their expectations for their students at school.  About 57% of the teachers and staff described their interaction with one another as respectful, collaborative, and supportive. There are 52% of the teachers and staff who describe their physical spaces in the school as comfortable, flexible, and open. They also described the characteristics of the teachers and staff as fun, interesting, and caring. The climate and culture staff survey also indicated that about 41% of them are pressured, hectic, rushed, and was never given enough time. There are only 22% of the teachers also expecting their students to learn in the classroom.
The school also conducted the student climate and culture survey on May, 2019. There are 35% of the students who set academic goals with the support of staff and parents. There are 26% of the students who avail counseling services three to six times a year.  37% of students also expressed that they feel pressured, rushed, and had never given enough time to complete their assignment at school.
This school year 2021, Admiral Herbert G. Hopwood Middle School has adopted the five initiatives to improve teaching and learning. Below is a list of the five initiatives:
Blended Learning: All students will be enrolled in the online platform. We offer viable courses that enhance meaningful learning for students to achieve college and career readiness. The integration of the online digital curriculum and the teacher's direct instructions provide a "hybrid" learning to maximize the students' engagement in the classroom activities.
Path 2 Math: Improve Math scores in Act Aspire and STAR Math assessments. The Path 2 Math initiative will promote problem-solving and critical thinking activities throughout the school year.
Celebrating Diversity: Promote cultural, language, heritage awareness and improvements to celebrate the diversity in the classroom. Allow students to be engaged in activities that promote social change for becoming responsible and caring individuals.
Healthy Hilitiais: Improve student and staff health and wellness. All stakeholders will engage in activities that would promote healthier lifestyles. Our students will be provided with various services to address their educational, physical, and emotional needs.
Your Attendance Matters: Improve attendance, participation, and safety on campus and on an online platform. To encourage students to come and to participate in the daily on campus and online learning. Use positive reinforcement to ensure that students enjoy school. Provide support to build skills that will promote responsible citizens and motivate individuals through intrinsic rewards.
The school will provide various schoolwide and classroom activities based on the five initiatives. By doing so, Admiral Herbert G. Hopwood Middle School aims to have a significant impact on the student level of achievement and success.
SWP: Goals, Number of Objectives Met/Number of Objectives
Scroll the table left to right
| | | |
| --- | --- | --- |
| # | Goal Name | Number of Objective Met/Number of Objectives |
| 1 | BY 2023, Hopwood Middle School will have a healthy learning environment that fosters academic growth, citizenship, and character development by decreasing student discipline referrals by at least 10% and maintaining at least 98% of quarterly attendance as measured by the AdminPlus student information system. | Objectives:  1 / 3 |
| 2 | By the end of SY2023, All  students at Admiral Herbert G. Hopwood Middle School will be at 50% or higher in English, Math, Reading, and Science as measured by ACT Aspire Summative Assessment. | Objectives: 3 / 3 |
| 3 | By SY 2023, 99% of students at Admiral Herbert G. Hopwood Middle School will be promoted to the next grade level as measured by the Student Information Data System. | Objectives: 0 / 3 |
Scroll the table left to right
School Budget (Local, Federal, Non-Appropriated Funds, Others)
Scroll the table left to right
| | |
| --- | --- |
| Funding Source | Total Allocation |
| Personnel Local Budget (including all benefits) | $2,965,047 |
| Personnel Federal Budget (including all benefits) | $428,764 |
| Local Budget - Operations Allocation | $233,000 |
| Local Budget - Other (SNILD) | $250,000 |
| Federal Consolidated Grant (School-wide Plan) | $573,308 |
| Federal Wellness | $21,881 |
| Federal CTE | $34,780 |
| Federal Parental Involvement | $3,126 |
| Non-Appropriated Funds (PTA Funds) | $13,564.25 |
| Non-Appropriated Funds (Educational Tax Credit) | $4,889.60 |
Scroll the table left to right
School Successes / Highlights
Built a pala pala near the basketball court that could be used as a mini stage.
Outsourced security guard and ground maintenance.
Built another basketball rim at the opposite end of the court.
Repaired and replaced Air Conditioning (AC) units in some classrooms.  
Maintained the restrooms, classrooms, and other school facilities and equipment. 
Conducted fire equipment inspection.  Checked all smoke detectors and replaced the batteries as needed. 
Conducted an earthquake drill during the first quarter on October 17, 2019, at 1:15 pm and a Fire Drill on January 14, 2020, at 9:00 am.
At the end of the school year, we had a total of 261 student discipline referrals which is 18% less than last school year's 317 total student discipline referrals.
Implemented "Leader In Me" curriculum and materials for character education. 
Recognized and gave incentives to homerooms with no discipline referral on a quarterly basis. 
Each team planned incentives at the end of each quarter such as field trips to celebrate student success in academics, attendance, and behavior.
Students, teachers, and staff were recognized after the first semester for their perfect attendance.  
Conducted home visits for students with chronic absenteeism by team teachers, counselors, and Admin.
Act Aspire Interim Testing took place in February. For English, all grade levels met the 50% goal. 6th Grade is at 65%, 7th Grade is at 74% and 8th Grade is at 75%. 
Implemented the PEAKS-Fuel Education program to select ELL students in the LMA program. 
Awarding took place for the end of the semester in February.
Growth report from November to March shows an increase of +97 Scaled Scores as compared to previous STAR reports.
Awards for most problems solved in IXL were awarded during the Semester Awards Ceremony in February.
Digits curriculum were used for 2nd 3rd quarter by the Math Teachers.
Math Olympiad scheduled after the 1st semester was completed by the Math teachers.
Achieve 3000 Report as of June, 2020, showed that 22% of students are at Far Below, 37% are at Approaching Readiness Level, and 41% are At or Above Readiness Level.
Project Lead The Way Materials for Robotics class arrived in time for 2nd semester classes.
Purchases of classroom materials per department was procured and distributed to the teachers.
Purchases of online subscriptions were completed.
STEAM competitions took place in January. HMS sent representatives.
School level Spelling Bee competition was completed. School representative competed in the National Competition where she placed 4th overall.
Although there were 134 students who were enrolled at the Credit Recovery program due to their failing grades in the 1st and 2nd quarter, about 97% of the students who took credit recovery have passed the courses and earned the credits.
Teachers offered an after school program for ELL students.
The school purchased translators to provide continuous assistance for our students whose native language is other than English.
STAR Reading data shows that the progress of ELL students is minimal and insignificant due to the unprecedented events that occurred between 2018 to the present. The increase of the ELL students scale score average this SY is only 6%.
The LMA program has been very successful in providing our at-risk students with personalized activities and curriculum. This year, LMA served 17 at risk students with 3 incarcerated students. Out of 17 students, only one student was not promoted to the next grade level due to his lack of participation and attendance in the program.
The peer tutorial took place as classroom level activities.
Students have been participating in various sports activities. HMS won 1st place and 2nd place at the intramural volleyball competition during the Fall semester. Students also participated in soccer, basketball, and leadership corps competitions.
After school health and wellness program was being implemented. The school added new clubs including Baila Marianas, Adventure Club, Photography Club, IT Club, and HOPE Club. These clubs provided activities for students that help promote healthy living and lifestyle.
The Botvin Life Skill program is being implemented as an after school and Saturday program. There were about 30 students who were in the program.
Hopwood won during the championship soccer interscholastic competition in March 2020.
A Day to Teach A Life School was conducted in February during the half day sessions. The students learned various skills from various presentations. The students learned various skills including cooking, baking, sewing, making local dishes, food preserving, and planting.
Teachers received coaching from various programs including Digits and HMH.
Three teachers were trained with the PLTW last school year and will implement the program.
An ELA teacher had attended the National Council of Teachers of English (NCTE) Conference in November 2019.
The school principal attended the Association for the Middle Level Education Summit in November, 2019.
Our CTE Teacher Mr. Victor Cabrera was selected as the CNMI PSS State Teacher of the Year. 
Our Counselor Ms. Jillian Pladevega was selected as the CNMI PSS State Counselor of the Year.