Garapan Elementary School
Executive Summary
Garapan Elementary School is located in the western-central section of Saipan, Commonwealth of the Northern Mariana Islands. The school opened in 1967 and was relocated to its current location in 1968 after a devastating typhoon struck the island.  The school has a current total population of 610 students and serves the villages of Garapan, Upper and Lower Navy Hill, Chinatown, Puerto Rico, and Northern Gualo Rai.
 
More than half of GES students consistently qualify for the federal free meal program.  Again this school year, all GES students will be eligible for the free and reduced breakfast and lunch program as a result of the Community Eligibility Provision implementation.
 
GES serves a diverse ethnic population, with close to half of our students being of Filipino descent.  In addition to indigenous students of Chamorro and Carolinian descent, GES serves students from culturally blended families originating from the Federated States of Micronesia, Asia, and Bangladesh.
 
At GES, we live by the Philosophy and Mission that children are our most valuable resource. Each student comes to school as a dynamic individual with diverse experiences and abilities. It is our primary goal to build in our students an enthusiasm for learning and a appreciation / awareness for themselves and others. We believe that with involved families and a caring community, each child can reach his/her potential. By providing an environment for our students that promotes intellectual, academic, and social growth, we create a brighter future for our school and community.
 
GES staff are composed of 28 Highly Qualified Teachers, 1 Non-Highly Qualified Teacher with a Memorandum of Agreement to achieve HQT status, 2 Literacy Coaches, 3 Highly Qualified Instructors in CCLHS, and 5 Paraprofessionals serving our students with disabilities. Administrative staff include 1 Highly Qualified Librarian, 2 Tradesmen, 1 School Aide, 1 Highly Qualified Vice Principal, and 1 Highly Qualified School Principal.
 
GES utilizes a variety of assessment data to determine students' academic performances. The data presented in this report was derived from the GES School Year 2019-2020 STAR Reading, Early Literacy, and Math Proficiency Level Screening 1-3 Data along with the CNMI PSS-GES ACT Aspire Interim 3 Assessment data up to March 2020 only.  Please note that outcome data for STAR assessments and ACT Aspire Summative are not available due to COVID-19 nation-wide pandemic school closure.
 
GES continues to be committed in providing quality education that meets the needs of our students, staff, and parents. With our combined efforts, we aim to meet the three following goals as stated in our School-Wide Action Plan:
 
Goal 1: Garapan Elementary School will have high expectations for student achievement to meet the needs of our student population of learners with diverse experiences, abilities and learning needs.  By June 2020, an average of 33% or more of students in grades 3-5 will be at the ready or exceeding level in Reading and 35% in Math as measured by the 2020 Act Aspire Summative Assessment.
 
Goal 2: Garapan Elementary School will provide a safe and healthy learning environment and an orderly school with efficient operation.  Therefore,By June 2020, 85% of all GES students will indicate a response of  "I am safe at school" as measured by the Spring 2020 Advanced Ed Student Inventory (F. Section 4).
 
Goal 3: At Garapan Elementary School, in addition to educating our children academically, we will also focus on the social and emotional needs of our students to help them become productive, responsible, and successful citizens.  We will foster a strong home-school-community partnership.  By June 2020, at least 85% of all GES students will demonstrate a school performance of "Successful" in the MegaSkills as measured by school-wide quarterly report card data.  
 
ACT Aspire Interim III Proficiency Report
Scroll the table left to right
Grade Level

English

Reading

Science

Math

 

Below Benchmark

Meets Benchmark

Below Benchmark

Meets Benchmark

Below Benchmark

Meets Benchmark

Below Benchmark

Meets Benchmark

3rd

66%

34%

82%

18%

88%

12%

79%

21%

4th

28%

72%

75%

25%

81%

19%

82%

18%

5th

33%

67%

82%

18%

74%

26%

72%

28%
Scroll the table left to right
Scroll the table left to right
STAR Early Literacy

Grade Level

At/Above Benchmark

On Watch

Intervention

Urgent Intervention

K

26/ 70 = 37%

12/ 70 = 17%

12/ 70 = 17%

20/ 70 = 29%

1st

52/ 80 = 65%

13/ 80 = 16%

8/ 80 = 10%

7/ 80 = 9%
Scroll the table left to right
Scroll the table left to right
STAR Reading

Grade Level

At/Above Benchmark

On Watch

Intervention

Urgent Intervention

2nd

45/ 93 = 48%

10/ 93 = 11%

19/ 93 = 19%

20/ 93 = 22%

3rd

43/ 98 = 44%

19/ 98 = 19%

15/ 98 = 15%

21/ 98 = 21%

4th

54/ 116 = 47%

19/ 116 = 16%

17/ 116 = 15%

26/ 116 = 22%

5th

50/ 128 = 39%

26/ 128 = 20%

30/ 128 = 23%

22/ 128= 17%
Scroll the table left to right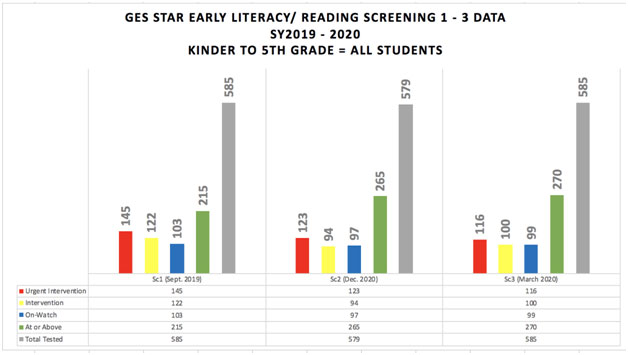 Scroll the table left to right
STAR Math

Grade Level

At/Above Benchmark

On Watch

Intervention

Urgent Intervention

K

Not Assessed

Not Assessed

Not Assessed

Not Assessed

1st

60/ 79 = 76%

11/ 79 = 14%

4/ 79 = 5%

4/ 79 = 5%

2nd

40/ 88 = 46%

9/ 88 = 10%

176/ 88 = 19%

22/ 88 = 25%

3rd

55/ 96 = 57%

18/ 96  = 19%

13/ 96 = 14%

10/ 96 = 10%

4th

64/ 117 = 55%

18/ 117 = 15%

17/ 117 = 15%

18/ 117 = 15%

5th

80/ 127 = 63%

11/ 127 = 9%

24/ 127 = 19%

12/ 127 = 9%
Scroll the table left to right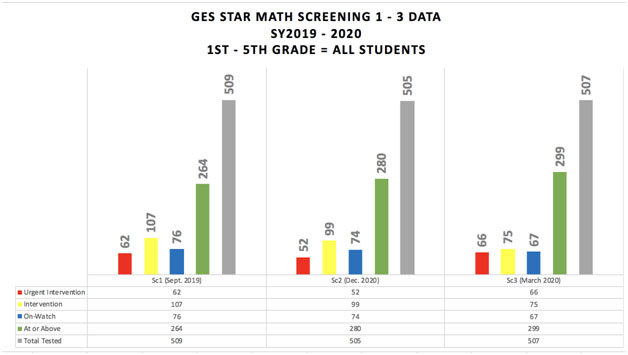 SWP:  Goals, Number of Objective Met/Number of Objectives
Scroll the table left to right
#

Goal

Number of Objective Met/Number of Objectives

1

Garapan Elementary School will have high expectations for student achievement to meet the needs of our student population of learners with diverse experiences, abilities and learning needs.  By June 2020, an average of 33% or more of students in grades 3-5 will be at the ready or exceeding level in Reading and 35% in Math as measured by the 2020 ACT Aspire Summative Assessment.

Objectives:  0/3
Activities: 14/16

2

Garapan Elementary School will provide a safe and healthy learning environment and an orderly school with efficient operation.  Therefore,By June 2020, 85% of all GES students will indicate a response of  "I am safe at school" as measured by the Spring 2020 AdvancEd Student Inventory (F. Section 4).

Objectives: 1/2
Activities: 11/17

3

At Garapan Elementary School, in addition to educating our children academically, we will also focus on the social and emotional needs of our students to help them become productive, responsible, and successful citizens.  We will foster a strong home-school-community partnership.  By June 2020, at least 85% of all GES students will demonstrate a school performance of "Successful" in the MegaSkills as measured by school-wide quarterly report card data. 

Objectives: 2/3
Activities: 11/11
Scroll the table left to right
School Budget (Local, Federal, Non-Appropriated Funds, Others)
Scroll the table left to right
Funding Source

Total Allocation

Personnel Local Budget (including all benefits)
CCLHS & Aides Local Funding Allocation for Personnel (excluding benefits)

$1,646,632
$185,873

Personnel Federal Budget (including all benefits)

$543,963

Local Budget - Operations Allocation

$60,000

Federal Consolidated Grant (School-wide Plan)

$357,000

Federal Wellness

$13,625

Federal Parental Involvement

$2,000

GES Non-Appropriated Funds (PTA Funds)

$2280.03

GES Non-Appropriated Funds (Educational Tax Credit)

$12,960.91
Scroll the table left to right
School Successes / Highlights
PSS & GES Awarded Accreditation
All staff participated and completed SPARKS Training
GES was recognized and awarded the 2019 Discovery Award from the Lowell Milken Center for Unsung Heroes and received $1000
GES took part in the PSS OPT Bus Evacuation Drill
GES Teachers, Instructional Support Staff, and Aides participated in an in-depth Renaissance PD for effective implementation and data coaching
GES Librarian implemented the monthly Wall of Stars Readers competition
GES Spelling Bee competition winners also placed 2nd place for CNMI-wide competition and represented GES at the Guam Regional Spelling Bee competition
GES partnered with NMC Crees to kick off the Children's Healthy Living (CHL) Project
GES conducted the school-level Geography competition
GES participated in various PSS Interscholastic Sports Competitions
GES honored and recognized the Mighty Mallards Teacher of the Year, Ms. Chasmyn Santos and Teacher Aide of the Year, Mrs. Carleen Lizama
GES participated in the Paseo De Marianas Christmas Tree Competition
GES inducted 4 amazing students as STUCO officers
GES & PTSA partnership for the $2 drive monthly fundraising. Also, PTSA was able to repair the playground swings, basketball backboards, and rims for our students
GES has strengthened community partnerships
GES partnered with JKPL and Humanities Council to conduct a cycle of the Motheread/ Fatheread Parent Literacy workshop
GES participated and was represented in the Mathcourt competitions
Partnership and coaching with Achieve 3000 & Smarty Ants
Strong educational collaboration with American Memorial Park for the various educational opportunities and learning extensions offered
GES STUCO campus clean up
REL Early Warning Systems and SEL Professional Developments
Mental Health QPR Training for teachers
Digital Learning Competition Participation
GES school-wide STEM & Paper Airplane competition along with participation in the PSS State-wide competition
AK Toyota Dream Car competition participation
GES hosted UNGL Japanese Exchange
Partnership with OCI Programs
CCLHS Performing Arts competition and participation in the Guam Performing Arts Competition
Monthly Student of the Month recognitions during monthly flag ceremony 
Monthly Megskills/ ESLRs PTSA award recognition during PTSA meetings
Weekly Professional Learning Team meetings and Grade Level Collaborative Instructional Planning meetings
Bridging the Gaps in Literacy & Numeracy and Wellness After-School/ Saturday Programs
Enrichment Learning Packets