Francisco M. Sablan Middle School
Executive Summary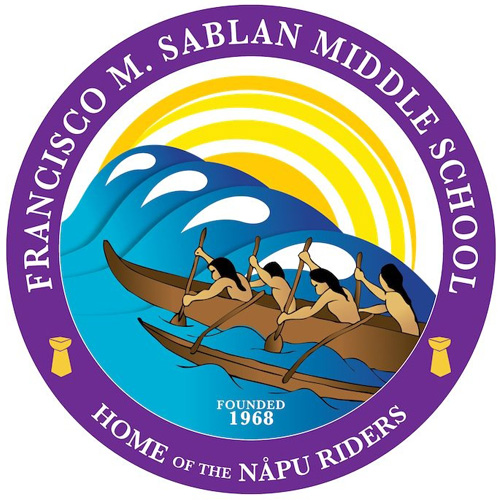 Francisco M. Sablan Middle School, Home of the Napu Riders, is located in the Southern part of Saipan in San Antonio Village, Sagamilon Street. We serve students from the villages of San Antonio and Koblerville.
 
After many years of being an Elementary School, San Antonio Elementary School was transformed into a middle school in SY 2014 - 2015 to serve the middle school aged students. On July 2017, San Antonio Middle School was renamed as Francisco M. Sablan Middle School after Public Law No. 19-55 was signed by Governor Ralph Torres.  Francisco M. Sablan Middle School (FMS) is a feeder school for students from Koblerville Elementary School .
 
For SY 19-20,  FMS maintained an enrollment of 312 students.
6th Grade- 99
7th Grade-106
8th Grade-107

Through the Child Nutrition Program, all FMS students qualified for Free Meals and were provided breakfast, lunch, and afterschool snacks on a daily basis. 
 
We serve a diverse student population comprised of: Chamorro- 30%, Filipino- 30%, Carolinian- 25%, FSM- 13%, Other Ethnicities- 18%.
 
Our current staffing pattern includes 1 principal, 1 vice-principal, 12 classroom teachers, 1 – Counselor, 2- SPED Teachers,  2 – CTE Teachers, 1 Leadership Corps Instructor, 2 CCLHS (Chamorro and Carolinian instructors), 4 teacher aides, 1 librarian aide, 1 admin assistant, and 1 maintenance.
 
Within the past five years, our school and our community have faced extraordinary hardships and disasters such as:  Super Typhoon Soudelor (2015), Super Typhoon Yutu (2018), and COVID19 (2020).  These disasters affected our school significantly as our school facility sustained extensive damages that include major structural damages and equipment loss.  As a result of Super Typhoon Yutu, FMS held double session classes to accommodate our students.  Because of the double session, our classroom instructional time was significantly reduced for two years.
In addition, many of our students and staff lost their homes and to this day are still living in tents and temporary structures as they await for more permanent housing.
 
Despite the many challenges we've faced these past few years, FMS continues to remain resilient, positive and focused on reaching our academic goals.  We continue to support teachers, students, and parents by providing access to technology and guidance even as we face new challenges.
 
Funding and assistance from Local and Federal Programs have helped us to reconstruct damaged facilities, restore broken equipment and has allowed us to continue to repair overall school structures. As we move forward, we will persevere in our focus on academic achievement and as a school community we will continue to live by our motto, "We take the challenge".
SWP: Goals, Number of Objective Met/Number of Objectives
Scroll the table left to right
| | | |
| --- | --- | --- |
| # | Goal Name | Number of Objective Met/Number of Objectives |
| 1 | All students at FMS Middle School will meet the ACT Aspire target growth for SY 2019 - 2020. | Objectives: 0 /4 |
|   | ** Due to the sudden closure of classes on March 16, 2020, FMS was not able to meet goals or continue any assessments to measure student achievement. |   |
Scroll the table left to right
School Budget (Local, Federal, Non-Appropriated Funds, Others)
Scroll the table left to right
| | |
| --- | --- |
| Funding Source | Allocation |
| Personnel Local Budget | $975,745 |
| Personnel Federal Budget | $149,267 |
| Local Budget - Operations Allocation | $31,500 |
| Federal School-Wide Program (SWP) | $183,600 |
| Wellness Allocation | $7,007 |
| CTE Allocation | $11,138 |
| Parental Involvement | $2,974 |
Scroll the table left to right
School Successes / Highlights
Sengabau Poetry Competition:  1st Place- Klin Deleon Guerrero, 2nd Place- Aleeza Castro
CCLHS: 1st Place Essay
Geography Bee:  Mickyiel Baculod
Spelling Bee:  Shyleen Santos
PSS Digital Learning Day:  Jaedi Celis
Completion of repairs:  Building E
Promotional Ceremony- Drive Thru Celebration
Summer Packets Credit Recovery
PSS Sports
Professional Developments:  Data Dialogue, ACHIEVE3000, Renaissance (STAR 360), Adaptive PE training, Crisis Response Training, PLTW Summit, (Cancelled PDs- PLTW Core Training, ASCA, Rigor and Relevance, Safe Civil Schools)