Dr. Rita Hocog Inos Jr./ Sr. High School (RHI)
Executive Summary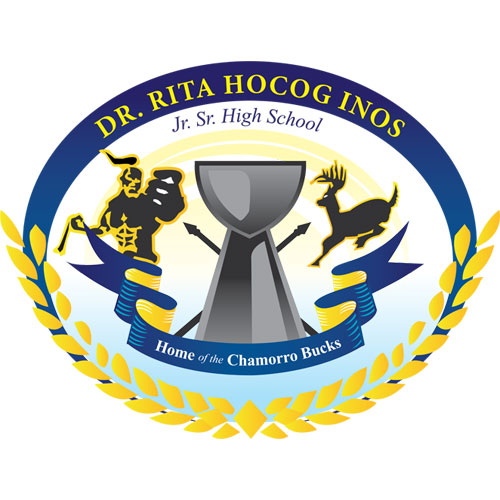 The legacy of +Dr. Rita Hocog Inos perpetuates in her namesake through her vision, innovation, strategic priorities, values of humility, respect, service and resiliency in addition to the importance of family in the hearts and actions of the Dr. Rita Hocog Inos Junior/Senior High School faculty, staff, and students. We take great pride that she is the first woman on Rota to achieve her Ph.d and remains a revered and respected PSS Commissioner both in the CNMI and Pacific Region.
RHI is located in Songsong Village, the island business center. Rota is approximately 11 miles long and three (3) miles wide with a population of around 2,000 residents. It is renowned for its beauty, friendliness, and hospitality. For the past twenty years, many businesses have closed and the once vibrant village depicts a sobering realization that our graduates are the best investment to stimulate our economic growth.
RHI serves students 7th-12th grade and is a feeder school for Sinapalo Elementary School K-6th and two parochial schools, Grace Christian Academy and Eskuelan San Francisco De Borja. In SY 19/20, the student population was 210 from diverse ethnicities: the indigenous Chamorros, Filipinos, Bangladeshi, Korean, Paulauan and Chuukese. Male and female students were 58.% and 41.9% respectively.  The breakdown by grade level is as follows 
7th grade- 19.5%
8th grade- 15.7%
9th grade- 16.1%
10th grade- 20%
11th grade- 12.8%, and
12th Grade- 15.7%
All students qualify for the federally funded Free Meal Program. Twenty (20%) of our students are identified as English Language Learners (ELL). To fulfil the Board of Education (BOE) Graduation Requirements, all students take Chemistry online using the BlackBoard platform. Additionally, all Advanced Placement courses are online.
Due to the remoteness of the island, we have continued to invest in building local capacity to ensure continuity and stability for our students and addressing PSS" Strategic Priority "Highly Qualified and Effective Personnel.'' In SY 19/20 we had a 93.9% retention rate. Our Support Staff and three SPED Aides attained their BA Degree. Two were hired as faculty members for SY 19/20 and we anticipate hiring the other two teachers during SY 20/21 (Strategic Priority: Highly Qualified and Effective Personnel). After nine (9) months without a Junior Reserve Officer Training Corp Instructor (JROTC), we recruited our Senior Army Advisor (SAI) in March 2020 from the island of Guam.
Teachers are availed all opportunities to grow professionally by their participation in professional development on Saipan, Rota, and/or virtually. Our Guidance Counselor became nationally certified in Mental Health First Aid for Youth in November 2019 and in SY 20/21 will conduct three eight-hour certification classes for RHI faculty, staff, and parents to assist them identify students who are "at risk" for emotional distress." Presently our Junior High School Science teacher is attending virtual certification courses through Project Lead the Way (PLTW) in "Model and Design" which will be infused in the 7th and 8th grade science curriculum.
Since 2017, we have focused on the critical importance of our students Social and Emotional Learning (SEL). We hold the belief that the foundation for student academic success is based on the social and emotional welfare of our students.. RHI has created a school culture that values and promotes student voice (i.e. evidenced by seeing the COE's at RHI to hear the concerns of the 12th grade English class and the RHI Youth Congress Speaker's request to see the WE Survey), and makes a concerted effort to make all students feel safe, important, valued, and appreciated. School activities and clubs are student driven and are focused on self-esteem, self advocacy, empowerment, positive self talk, and coping skills (Strategic Priority: Safe Orderly Schools).  All students have a one-hour homeroom at the beginning of each day and are greeted by their teachers outside their respective rooms. Students have the same homeroom teacher from 7th-12th grade to provide a stable second parent where they focus on genuinely knowing the students, building relationships, and team building activities. Several teachers implemented elements of the "Leader in Me Me Program. During SY 20/21 we will pilot the program in all 7th and 8th grade classes. SEL is integrated throughout the content areas as we feel it is essential to be infused in all classes.
We continued to maintain positive partnerships with our government agencies and private businesses (Strategic Priority: Community Partnerships). They provide both in-kind and ETC support respectively. Our Cooperative Education Program success is predicated on these partnerships. Thirty-seven (37) Juniors and Seniors were gainfully employed.
Our School Wide Improvement Plan implemented the Rigor, Relevance, and Relationship Framework focusing on High Level Thinking Skills, infusing math and reading in all content areas, and exposing students to Entrepreneurialism by the opening of "Yum Yum" a student store by the Culinary Arts class.. In SY 20/21 we will begin the Entrepreneur Career Pathway through a four-year certification offered by E-Pathways. Our goal is to provide students with the knowledge, competencies, marketable skills, and ASK Entrepreneurship OR NOCTI General management national recognized certification (Strategic Priority: High Student Achievement). It is our vision to provide our graduates with an alternate option besides the military and working for the government.. Our students possess the creativity and innovation to be entrepreneurs both on Rota and globally e-commerce (there is a market for locals who have migrated to the states and people who are interested in indigenous culture's products) and hopefully transform Songsong Village, the main village into a flourishing business center owned and operated by former graduates.
On March 16, all PSS closed due to the COVID19 Pandemic. On April 15, 2020 19 faculty and staff were furloughed indefinitely due to the CNMI financial crisis. The early closure adversely affected our ability to meet our SWP goals. Consequently in our 20/21 SWP we replicated our goals with new activities.
With a staff of nine (9) we continued the operation of the school to ensure continuity of instruction through "Home Learning Packets" for all students, held a Promotion and Graduation Ceremony within CDC Guidelines, and prepared the school for the opening of SY20/21. A definitive plan for the mode of instruction has not been determined, Therefore, we are planning several scenarios to provide the best quality of teaching and learning for our students during this unprecedented and precarious time.
 
SWP:  Goals, Number of Objective Met/Number of Objectives
Scroll the table left to right
#

Goal Name

Goal Details

1

Star Reading and Math

Using Star Reading IRL and Math GE as the baseline, by the end of SY 20/21 65% of RHI students will increase by at least one grade level using various integration and intervention methods in all content areas 

Total Number of Objectives Met/Number of Objectives: 0/4

2

ACT Aspire in Science

Using SY 18/19  ACT Aspire data as the baseline by the end of SY 20.21, 65% 7th-10th grade students will increase 35on each benchmark using various integration and interventions methods in the Science content area. 

 Objectives: 0 / 1

 

3

SBA NMI History

Using SY 18-19 NMI History Standard Based Assessment data, by the end of 20/2165% of RHI students taking NMI End of Course Assessment will meet benchmark scores in the content  area in NMI (Social Studies).  

Objectives:  0/1

4

SBA Chamorro Carolinian Heritage Studies (CCLHS)

Using SY 18/19 Chamorro Carolinian Language heritage Studies Standards Based assessment data, by the end of SY 20/21, 63% of RHI students taking CCLHS End of Course assessment will meet benchmark scores in the content area of Chamorro.  

Objectives: 0 /1

5

Career Technical Education

Using SY 17/19 CTE Enrollment data, in grades 7th-12th grade will increase 30% per course.  

Objectives: 0 /1

6

Parental Involvement Engagement

By the end of SY 20/21, there will be an increase of 26% in parental participation at Parent/ Teacher/Student Association (PTSA) meetings to develop stronger partnerships focused on student support and academic growth.  

Objectives: 1 /1

7

Health Physical Fitness

By the end of SY 20 /21, 65% of RHI students will be within a healthy BMI zone with the implementation of after school wellness activities to promote healthier lifestyles and physical fitness.  

Objectives: 0 /1

8

Counseling Program

By the end of SY 20/21, RHI students will show a 25% decrease in "at risk " behavior as measured by the Youth risk Behavior Survey with the implementation of student leadership awareness activities to promote healthier lifestyles.  

Objectives: 0 /2

9

Improvement in Instructional Practices  and Assessments

By the End of SY 19/20, 20% of the faculty will show an increase in using higher level thinking skills in instructional practices and assessment/outcomes.  

Objectives: 1/2
Scroll the table left to right
School Budget (Local, Federal, Non-Appropriated Funds, Others) 
Scroll the table left to right
| | |
| --- | --- |
| Funding Source | Total Allocation |
| Personnel - Local (including all benefits) | $1,177,869.00 |
| Operation - Local | 0 |
| Personnel - Federal (including all benefits) | $197,137.38 |
| Federal Consolidated Grant - (School-wide Plan) | $132,000.00 |
| Federal - CTE | $8,008.00 |
| Federal - Wellness | $5,038.00 |
| Federal - Parental Involvement | $3,000.00 |
| Non-Appropriated Funds -(PTSA) as of 5/31/19 Bank Bal. | $21,468.00 |
| Non-Appropriated Funds - (Educational Tax Credit)as of 6/26/19 | $4,129.41 |
Scroll the table left to right
School Successes / Highlights
RHI had a 100% graduation rate for our 8th grade Promotees and 12 grade Seniors.
The RHI team conducted six (6) virtual meetings with Seniors to hear and support their vision as to how they wanted their graduation ceremony to be conducted. They decided to have a motorcade that traversed from SNP through all the villages and culminated at RHI. They had a motorcade drill formation (their family was inside their vehicles) and a picture taking opportunities. The 8th Grade Promotees had a Drive Thru and Photo Booth. 
From 9-13-19 to 3-13-20 the average attendance rate for grades 7th-12th is 98.03%.
We had a 0% drop out rate.
Throughout the school year, students clubs and classes were responsible for writing a proposal for all student activities. This gives students a voice in what type of activities they want at RHI. Their detailed plans included a detailed Executive Summary on the purpose of the activity and the benefits to the school, mapping, a logistical plan, and letters to affected agencies. They did an oral presentation to the principal prior to approval and provided an "After Action report" to identify the strengths and areas of improvement in the event they replicate the activity in a subsequent year.. They inherently learned how to plan, organize, manage, coordinate, and execute complex activities that promote high level thinking skills, time management, conflict resolution, collaboration, and communication skills. Over 60  student club or class driven activities were approved and exceeded all expectations. These activities included  but are not limited to the School-wide Coastal Clean-Up, Martin Luther King Day Ceremony, Community Pole Painting (the majority of telephone poles on Rota have cultural themes) Northern Marianas College Outreach "Beautify My Marianas" Asian Invasian Club Cultural Overnight, National Honor Society Officer Workshop, Trash-a thons, JROTC Change of Command Ceremony, STUCO Induction Ceremony, Pep Rallies, Junior/Senior Prom, and Red Cross Carnival.
The JROTC Drill Team garnered 1st Place, 2nd Place, 3rd Place and 5th Place at the CNMI Multiple School Drill Competition. What is extraordinary about their accomplishment is they did not have an JROTC Instructor for the first  eight months of the school year. They practiced relentlessly from August-March both after school and during the weekend under the guidance of our Leadership Corp Instructor.
RHI garnered 1st Place in Oratory and Extemporaneous Categories at the Chamorro Language Competition on Guam
Junior High School teachers work collaboratively to create Project Based Learning activities and assessments.
The RHI PTSA was instrumental in funding raising both in-kind and monetary contributions to purchase six (6) air conditioners for our classrooms.
One of our "at risk" Seniors had a 575 point lexile growth in Achieve3000, the highest in the school.
Through our partnership with the Department of Public Safety, we were allocated four Student Resource Officers for the duration of the day. Their presence on campus created a culture of safety and they served as big brother figures to many of our "At Risk" students.
The students spearheaded the first RHI GBLT Club (Junior High referred to themselves "Color Kids' ' and High School students as "Skittles'') with a membership of 15 students. They conducted interactive activities for one week during lunch period to celebrate "Gay Pride Week."
RHI partnered with many government agencies to assist us in ensuring we meet PSS' Strategic Priorities.
The Americorp Program with an enrollment of nine (9) students provided both RHI and SNP students with tutorial services during and after school. They volunteered to serve "Grab and Go" meals during the pandemic without any compensation.
The RHI operates like an orchestra, each employee possesses his/her own unique talents and areas of expertise. They are given the creative latitude to voice their ideas and in concert, they create symphonic masterpieces.  This is evidenced by their support of each other and collaboration in activities such as the  Annual Coastal Cleanup (100% teacher and student involvement), teacher driven professional development, student led activities, RHI's Education Day Celebration, and providing extra assistance for students in need. The faculty and staff's passion to provide "the best for our students" is an attribute that would make +Dr Rita Hocog Inos proud.